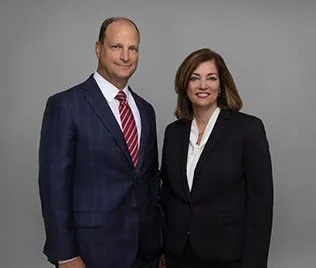 About us, our history and philosophy
Adamczyk Law Office is a Pittsburgh law firm that has been in existence for almost 30 years having been established in 1992. Its two partners throughout this time have been practicing law for 30 years. The firm is located in the prestigious Grant Building downtown next to the Courthouse and City-County Buildings .
We have been recognized by Martindale Hubble as a firm of distinguished attorneys with only the highest of ethical standards.
Mary Adamczyk has been recognized as a Super Lawyer by Philadelphia Magazine since 2005.
As proud as we are of these milestones, we believe that our most impressive achievements are earned every day through helping improve the lives of the people we represent in family law, personal injury law and employment rights matters. We realize that there is nothing in the human experience that affects one's life more than a family matter, one's health or one's ability to earn a living.
We look forward to serving you, your family or friends in these specific areas of law.
Adamczyk Law Offices, L.L.P. is a law firm founded in 1992 by Mary Adamczyk, whose original focus was and remains on family law issues including divorce, property division, child custody, spousal support, child support, grandparents rights, children's rights, mediation and equitable distribution. A native of Buffalo, New York, Mary moved to Pittsburgh upon marrying her husband John Adamczyk, who has been a partner in the firm since 1996, and used her talents to immediately start Adamczyk Law Offices L.L.P.
Since that time her success and reputation have grown to the point where she is recognized among her peers, the judiciary and the public as one of Pittsburgh's top divorce lawyers. Many of the cases she engages in involve marital estates which consist of millions of dollars not to mention closely held family businesses of significant worth. She was named a Pennsylvania Super Lawyer by Philadelphia Magazine since 2005. That said, her goal has always also been to help deserving people in need with less influential means especially with regard to children's issues as she is often appointed by the court to represent children as their guardian ad litem.
In 1996, John Adamczyk partnered with his wife bringing to the firm his experience in litigating and settling a wide range of serious, catastrophic injury and wrongful death claims as well as employment discrimination claims. Mr. Adamczyk has also practiced family law since being a partner at the firm having learned from who he knows is the best, his wife Mary. This husband and wife/male and female approach to law especially in family law has provided a collaborative view of the firm's cases that few, if any firms, can benefit from.
Over these years, the firm has successfully litigated thousands of cases for its clients and as such, the firm continues to grow not through advertisement but based solely on its results, reputation of its lawyers, and referrals from other lawyers and former clients.
Our goal is to zealously represent you by first getting to know you as a person, the facts of your case in light of your legal rights, and then work to bring your case to successful resolution, whether through settlement, or if need be, litigation. We realize that the guidance, advice, and results we bring you will be the sole factors in determining whether you would recommend a friend or family member, enabling our firm to continue to prosper and help many individuals along the way.
To see how we have helped other clients, please click here to see a sampling of our client thank you letters.
When you need family law, personal injury, or employment rights assistance or representation, just give our law firm a call.
We will set up a free appointment to hear your needs and assess your personal injury, family law, or employment rights case. Call us today for your free consultation at (412) 345-3594.